This shop has been compensated by Collective Bias, Inc. and its advertiser. All opinions are mine alone.. #CampbellsShortcutMeals #CollectiveBias
It seems like as my kids get older, our lives just get busier and busier. Anyone else find this to be true? That's why I always stop at Walmart to get everything I need for a quick dinner since our family on the run and everything else on my list. We seem to have some kind of activity or practice every night, year round so I'm always looking for quick and easy meals I can put together to fuel the kids. Tonight I'm making an Easy Cheesy Mexican Campbell's® SpaghettiOs® pasta Skillet that everyone loves and takes about 20 minutes to throw together. We pair it with some V8 Splash® or V8 +Energy® to provide an extra energy boost so we all can finish the day!
Finding all I need for this recipe is super easy. You can find the V8 Splash® and V8+Energy® in the juice aisle, the Campbell's® SpaghettiOs® pasta in the soup aisle and the Pace® salsa and taco seasoning in the Mexican foods section.
Find all you need at Walmart to make this recipe yourself.
Hover and click on the image below to start shopping!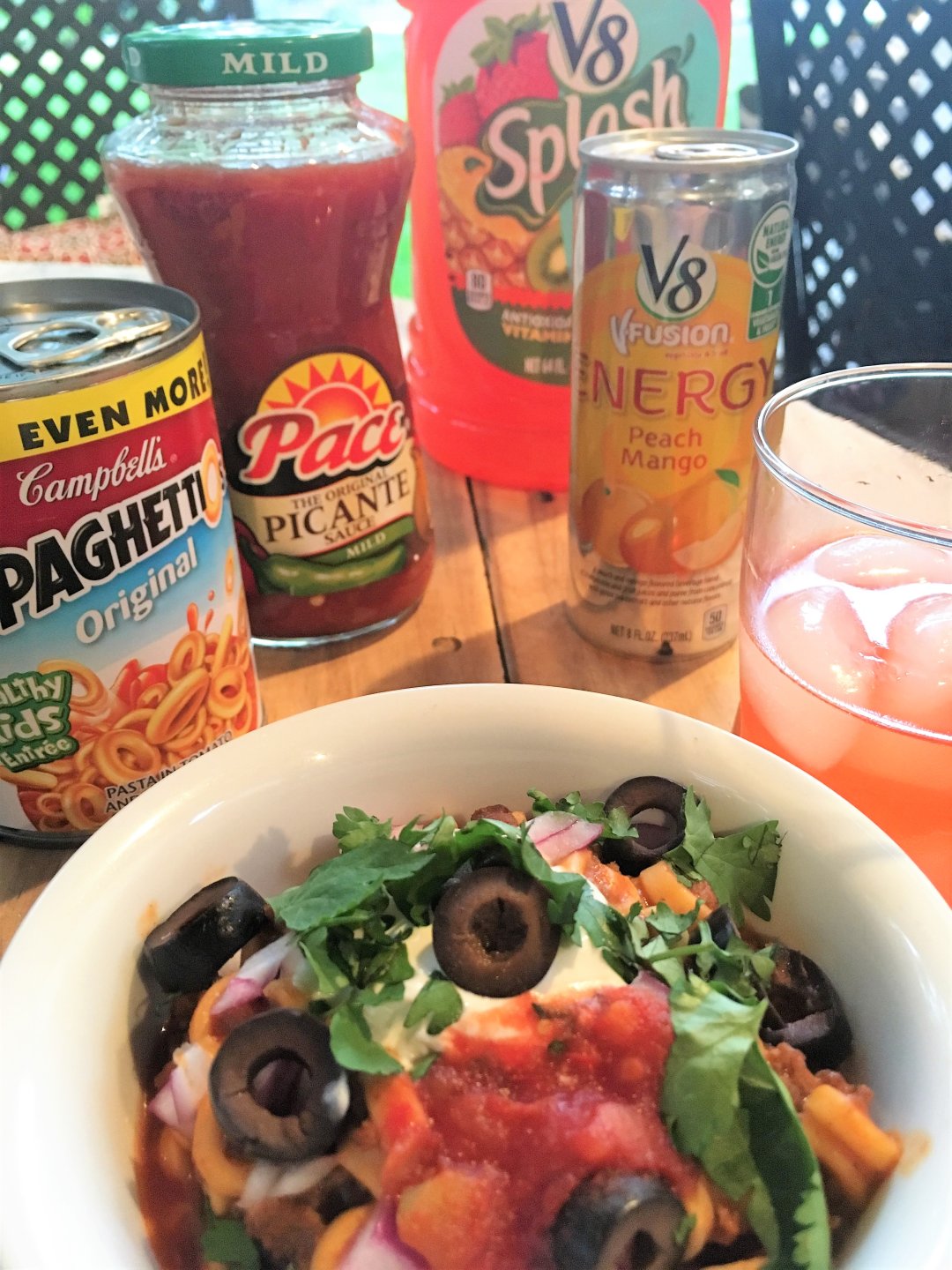 Pick up some ground beef in the meat department, cheese, and veggies and you're set to start cooking up this fun dish!
Start by cutting your corn off the cob (or use a small can of sweet corn) and toss it into a skillet with about 2 TBSP of oil. sauté until browned. Remove from skillet and set aside.
Add 1 lb. of ground beef to the same skillet and cook until meat is no longer pink. Add your taco seasoning as directed on packet.
Stir in 2 cans of Campbell's® SpaghettiOs® pasta.
Add in corn and 1 Cup of shredded cheese. Let warm through.
Garnish with onion, cilantro, cheese, olives, sour cream and Pace® salsa.
Pace® always gives an authentic Southwest flavor and gives a little kick for those who like to spice things up a bit! If you really like it hot, Pace® has a variety of different heat levels for all tastes. Mix it up however you like!
We all love this recipe for busy nights. It's so easy I can even have the kids help get this ready.
The end result reminds me of enchiladas. The pasta takes the place of tortillas and it's so much less work! I think it's so fun eating Campbell's® SpaghettiOs® pasta as an adult and feeling like a kid again!
Serve it all up with some V8 Splash® which is made with real fruits and veggies. It's a great way to add extra vitamins and antioxidants to your meal.
Then we grab a V8 +Energy® to go. It has only 50 calories, natural energy provided by green tea, and one combined serving of fruits and vegetables when we head off to sports practice or whatever the activity of the day is to provide steady energy for the rest of the day!
This is one meal I feel good about feeding to my family when we are on the run on busy nights.
Easy Cheesy Mexican Campbell's® SpaghettiOs® pasta Skillet
Ingredients
1 Ear of Corn
1 lb. Ground Beef
1 Packet Taco Seasoning
2 15.8 oz Cans of Campbell's® SpaghettiOs® pasta
1 Cup Shredded Cheddar Cheese
Optional for Garnish
Pace® Salsa
Diced Red Onion
Chopped Cilantro
Sour Cream
Sliced Olives
Shredded Cheese
Instructions
Remove corn from the cobb and sautee in a skillet with 1-2 TBSP oil until golden brown.
Remove corn from skillet and set aside.
Add ground beef to skillet and cook until pink is gone.
Add taco seasoning as directed on package
Add the Campbell's® SpaghettiOs® pasta, corn, and cheese to skillet and cook until warmed and cheese is melted.
Spoon into bowls and garnish how desired.
Click for more easy recipe inspirations!
What are your favorite back to school, 20-minute meals? Leave a comment below.