Do you start your day with a healthy breakfast or a cup of coffee…
I hope you picked healthy breakfast
Why?
Because Breakfast is the most important meal of the day!
Most of us know this but do we stop and make ourselves eat in the morning or even know why it is so important?  Probably not, we are in a hurry, we have an early morning meeting or we need to lose weight or I will just grab a cup of coffee.  Aren't these excuses that just about everyone of us have used.  I know that I have.
 As a child, my mother always made porridge (hot cereal), as she was brought up with the thought that porridge sticks to your bones.  I hated porridge and probably because she made it early in the morning for my dad and it sat on the stove until the rest of us got up… by that time it was lumpy and gross.  So, I would get up just a few minutes before I need to leave for school and miss breakfast.  Over the years, I stopped entirely eating breakfast not knowing that skipping meals, especially breakfast can lead to being overweight.
Overweight,   did you know that skipping breakfast can actually make you gain weight not loss it?  It can as breakfast quick starts your body into gear, and increases your metabolic rate.  By missing breakfast and when you eat your next meal, your body wants to hold onto those nutrients longer.  You also have the a tendency to eat more at the next meal or snack on high calorie foods because you are hungry.  So the next time you think of losing weight, don't skip your breakfast but eat it.
 Another reason to eat breakfast it to help your brain.  You need to give it energy so that you can concentrate and do you work efficiently.  This is especially important for children.  Studies have shown that children that don't eat breakfast are less attentive and don't do as well in school.
Also watch out for those high calorie breakfasts of  doughnuts and pastries and sugary cereals.  They might be fine once in a blue moon but not everyday as they will give you a quick energy boost and then an even a faster slump.  Choose food that will give you a longer energy boost like whole grains, fruits and vegetables.
Here are some breakfast recipes to help you start your mornings!
Homemade Granola from Feeding Big ~ great with milk, yogurt or even just by it self.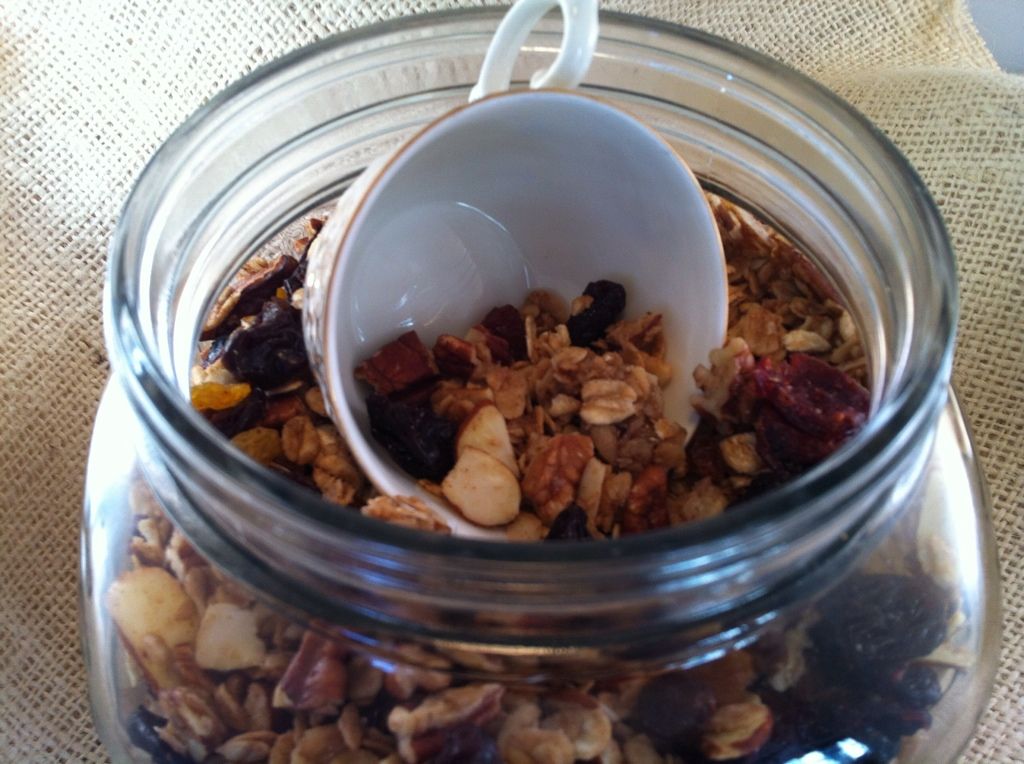 Another great Granola Recipe.  This time from Spatulas on Parade
How about some Granola Bars from yours truly This and That.  Just because you are in a hurry doesn't mean you need to miss breakfast.  Take these with you.  They are great as a on-the-go breakfast.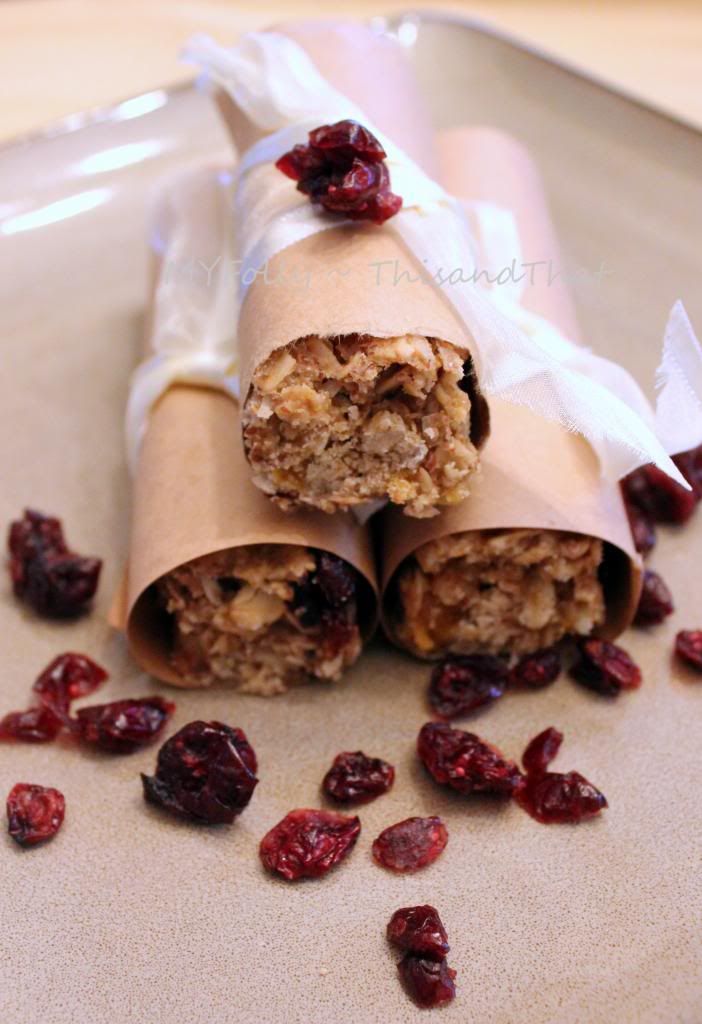 Sticking to the granola theme. I have another on-the-go breakfast ~ Breakfast Granola Scones
How about some Monday Blue Biscuits from Spatulas on Parade … these will  kick start my Monday mornings.
Spatula on Parade makes her Morning Kisses, a "sweet, delicate morning treat" once in awhile to keep them special.
Muffins are another great quick breakfast food, they can complement your meal or you can eat them alone.  These Cranberry Orange Muffins from Feeding Big would be perfect.
Waffles and Pancakes are another great breakfast but they might take a little bit more time to prepare.  They would be perfect for the weekends ~ as you need breakfast then too.  These Homemade Waffles from Walking on Sunshine would work great.
I make Oven Pancakes quite often at our house and we like to eat them fresh fruit or fruit sauces.
Breakfast casseroles are another great thing to make.  They also may take some time but are wonderful for those weekends when you want something special, a birthday breakfast or even a great breakfast for the holidays.  Some breakfast casseroles can be made up the night before and then just put into the oven in the morning.
This is a fairly simple Breakfast casserole, you can change the veggies and meat to your liking or just leave out the meat if you want.  I change the recipe just a little every time I make it.
Another casserole I make for breakfast is Salmon Croissant Casserole.   It does take a little bit of time as you have to make your croissants before preparing it.
Spatulas on Parade also makes a yummy Breakfast Casserole.
I told you at the beginning that I don't like porridge but I love this Baked Oatmeal.  I make it with blueberry sauce and peaches. I also will cut the leftover baked oatmeal into bars, for a quick on- the- go breakfast.
How about some breakfast that has a little bit of kick to it… This Chilaquiles from Feeding Big has just that.
As you can see with this selection, breakfast can be as easy or as hard as you want it to be.  If these are still too hard, eat some cereal, hot or cold,or have some fruit.  Yogurt or a smoothie also make a wonderful breakfast.  And if you are truly worried about your weight -what about juicing it with some fruits and vegetables.  If you aren't a breakfast person, start out with something small and as your metabolism increases and your body starts to do a kick start, you will start to enjoy breakfast.  
The most important thing is that:
You want to jump-start your body with some breakfast in the morning!
sources: Importance of a Healthy Breakfast, Why breakfast is the most important meal of the day, Breakfast the most important meal of the day
Related articles