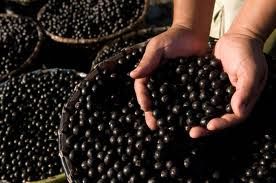 Acai berry is often called a superman among antioxidants. The pulp of this reddish-purple berry has a power punch for its size. According to WebMD, some studies show acai pulp is richer in antioxidants than more familiar berries we consume like blackberries, blueberries, cranberries, raspberries and strawberries. These berries are high in Vitamin A, fiber and calcium.
Anti-inflammatory properties are also attributed to these berries, along with aiding in digestion.
Acai berries are extremely fragile. These berries are picked and flash frozen to help keep their nutritional properties intact. This process makes acai berries more expensive than their berry counterparts.
The pulp is sour and a bit bitter. It is not very good to eat alone. Mix it into yogurt, smoothies, sauces or drinks. Add it other juices to lessen acai's strong taste.
Click for Acai Recipes on Cook n Guide