Welcome back to Foodie Friends Friday AND
another week of delicious food and recipes…
We have TWO new and exciting things we are beginning this week.
First up we are offering advertising at a special rate of $5.00
offered exclusively on Fiverr
HERE.
That's right…for only $5.00!
Head on over to Fiverr for more information.
Next, we are also starting something NEW for Foodie Friends Friday!
We will be featuring a GUEST co-host each week.
Sandi has always had an interest in food but has absolutely NO formal training.
She learned to cook by watching her mom and grandmother who were both fabulous cooks
but had a very limited menu. Sandi loves watching the Food Network and has learned a lot through the years.
She is also not afraid to try anything when it comes to cooking and does a lot of experimenting.
Sandi has been participating in our linky parties almost right from the beginning
and has been a great friend to all of us here at Foodie Friends Friday.
AND if you would like to be a guest host of our party, leave us a comment
and we'll be more than happy to have you join us one week soon!
Now, on to our party and our winners from last week!
Recipes with the Most Clicks…
Host Favorite Recipes can be viewed HERE on
Please take a moment to read through the rules
before getting started…Thank You!
By linking up you agree that you read these rules and all photos/recipes are original and belong to you.
You agree to allow Foodie Friends Friday and any of it's affiliated websites or publications
(Social Girls Media, LLC) to use photos, links, and recipes for reprint and/or republishing
and distribution without monetary compensation to you.
If photos and recipes are used, proper link backs to you will be included.
To thank you, we will continue to feature those with links throughout the year on various outlets.
Adding Links back to Foodie Friends Friday and our Button is our only form of advertising to
bring in more people to see YOUR recipe.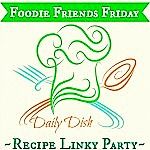 <div align="center"><a href="http://www.foodiefriendsfridaydailydish.com/" title="Foodie Friends Friday" target="_blank"><img src="http://i1271.photobucket.com/albums/jj628/busyvegetarianmom/FFFDDButtonNEW150Darker_zpse238f637.jpg" alt="Foodie Friends Friday" style="border:none;" /></a></div>